At M&C Saatchi One-to-One, we are a modern CRM agency that helps businesses grow in value by creating Impactful Human Connections between brands and their consumers across the customer journey. To say the least, emails are our "bread and butter" and we consider ourselves experts in optimizing performance.
When thinking about email marketing, it's important to understand the different components within the email itself.
Email construction is similar to journalism; the first goal is to grab the audience's attention through subject lines and email previews. On average, consumers have 1,602 unread emails in their inbox (Klaviyo). Therefore SLs are the most critical element to achieve engagement. If you don't grab attention, your email will fall victim to the scroll.
Secondly, use the copy and the creativity within the email body to build anticipation and to ultimately lead the consumer through to the CTA. Ensuring your email can encourage engagement upon first glance is vital to keeping the consumer's attention. Without an engaging body means high OR and low CTRs and eventually lower sales.
Lastly, and most importantly, is the call to action: the touchpoint where the consumer clicks through to purchase or to another initiative-related destination. By this point in your email campaign's journey, you will have likely lost some of your audience, so it's even more critical to make the CTA exciting for those who are really interested in what's next.
In this series, we will examine each component to understand industry best practices and key creative examples that show how to attract your audience's attention and ultimately drive engagement.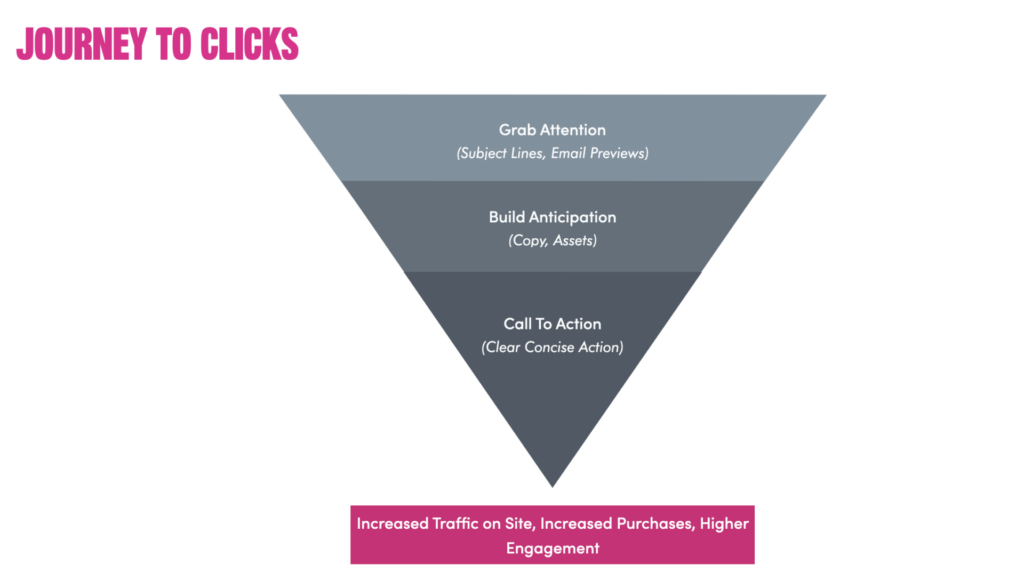 Phase 1: Grabbing Attention
Consumer attention is becoming harder to get in front of and without an eye-grabbing subject line, your emails can be lost to cluttered inboxes. Subject lines and email previews are the primary components that will grab consumers' attention and encourage them to open your email.
Subject Line
Subject lines are the first opportunity to grab the attention of consumers. By definition, it's a short line introducing your email to the contact.
Length
Ideally, a subject line is approximately 50 – 65 characters. However, most subject lines are between 40 and 50 characters (Subject Line Grader). Knowing that most brands are not using the full real estate of inbox subject lines there is an opportunity to test length and its correlation to engagement. Additionally, a subject line of six or seven words is ideal. Avoid going beyond these character limits, as these emails may be tagged as spam.
Moving beyond the basics, it's important to look at the type of language you use to grab your consumer's attention.
Personalization
Consider leveraging personal information that can be included in subject lines like name, birthdays, location, recent event attendance, last purchase, and time zone. Personalization in your subject lines can increase consumers' attention, making them more likely to open an email: the first step in increasing engagement.
Take, for example, this subject line below from COS. In this scenario, they are leveraging first-name personalization to speak to their most engaged consumers, providing them with a unique experience and an exclusive discount. This culmination of exclusivity and first-name takes personalization a step further.

Personalization is not always relevant to the content of the email. In this case, look at leveraging language that relays a sense of urgency, scarcity, fear of missing out (FOMO), or excitement, in order to encourage opens.
Urgency
The example below from Girlfriend Collective is a fun way to incorporate urgency within subject lines by tagging it as a PSA and including an emoji. Combining urgency language with a sales event in the subject line can increase consumer engagement triggering them to act fast before they miss out.

Scarcity
With the below example from Enfamil, the brand employs scarcity by highlighting that this offer is only available today, encouraging consumers to open. In addition, low-in-stock and last-chance scarcity emails with attention-grabbing subject lines and discounts can convince subscribers to make faster purchasing decisions.

FOMO
Verge Girl leverages FOMO with their "Don't Forget" subject line, which they also amplified with capitalization making it look more alarming in consumer's inboxes. Using FOMO in a reminder context can trigger consumer's purchasing anxiety and lead to increased open rates.

Previews
Email previews can be thought of as an extension of your subject line. Brands often give previews less attention, but up to 25% of respondents read the preview text before opening an email. (Litmus)
Unlike the subject line, there are no hard-and-fast rules around how long your preview text should be. However, because email clients display previews differently, around 90 characters is a safe guide to fit with all email clients.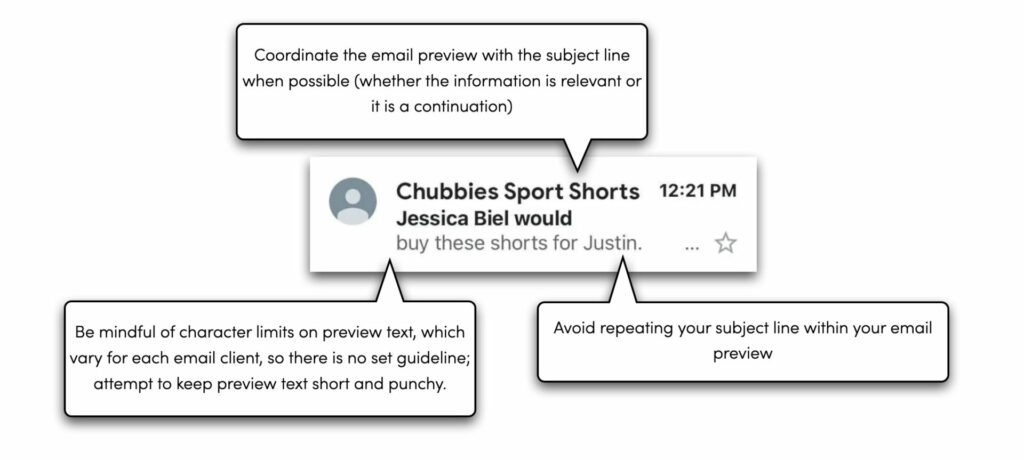 Depending on what message you are trying to convey to your audience, subject lines and previews are the first steps in consumers opening emails. While personalization and urgency subject lines may not be relevant for specific campaigns, it is essential to use exciting language to entice consumers and break through the noise of cluttered mailboxes.
Now that you have the foundation of the inbox attention grabbers, our next article in this series will look at building anticipation through creative assets and compelling copy.
If you're ready and need help optimizing your open rates, get in touch with us at letschat@mcsaatchi121.com or on our website.
Sources